The modern world can be exhausting and stressful at the best of times, not to mention during times of personal or national crisis. And COVID-19 certainly poses a challenge to the entire world. We are experiencing uncertainty on a scale we've rarely seen before. In times of crisis such as this, what role can flowers play?

Although your local florist may not be the first place you run to when a crisis hits, flowers can provide us with a much-needed boost.

Life-saving tulips

Indeed, for many Dutch during WWII, the national flower business was quite literally a lifesaver. After the Allies lost the Battle of Arnhem to the Nazis in 1944, large parts of the Netherlands were cut off from food supplies. This caused the Dutch Famine of 1944–1945. The fields were mostly barren, and vegetables were long gone. But one thing remained: tulips. By grinding tulip bulbs into a pulp to make porridge or soups, the Dutch were able to find a vital source of nourishment and avoid starvation. It's an extreme example which we hope will never be repeated, but flowers still have other uses in stressful times like today.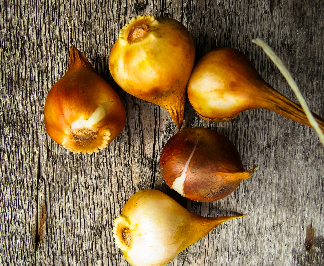 By grinding tulip bulbs into a pulp to make porridge or soups, the Dutch were able to find a vital source of nourishment and avoid starvation.
What flowers can do for your well-being

Color and beauty bring joy. Anyone who has gifted a bouquet of flowers, be it roses on Valentine's Day or carnations for Mother's Day, knows the special smile that flowers can trigger. There are also studies which show that patients in hospitals who are given flowers often get well sooner, thanks to higher levels of dopamine and reduction in stress levels. While some hospitals have banned flowers during the coronavirus crisis, that doesn't mean you can't pop some on your own bedside table or gift a bunch to someone working especially hard.

Floral scents aid relaxation. Lavender is probably the most relaxing scent in the world. It has calming properties which can help relieve nervous tension and stress. Chamomile is also a well-known scent for relieving anxiety. But did you know that jasmine and rose scents can also help to create a calm and nurturing environment? With a bunch of flowers on your table, you can enjoy floral aromas that not only freshen up your home, but also promote your emotional well-being. What better time to take advantage of mother nature's therapies than in times of crisis?

Connect with others. A crisis can feel particularly lonely, especially if you are physically distant from those you love. Giving and receiving flowers is an opportunity for positive contact with friends or family. Letting them know you are thinking of them creates an intimate connection and triggers a release of serotonin, a "happiness hormone." This feeling can have a positive effect for days rather than hours.

Flowers bring hope. During the coronavirus pandemic, many people are turning to gardening as a mindful activity and a way to focus on the future: the other side of the crisis. Planting flowers now which will not bloom until next spring is a reminder that life goes on. A beacon of hope such as this can be a powerful tool in battling through a crisis.
It's clear to see that flowers bring a range of different benefits to our psychological health: they decrease stress, increase happiness, and nurture hope and connections with others. So, in times of crisis, do yourself a favor and pick up a beautiful bunch of blooms.

Support sustainable floriculture

Since you can't tell flowers to stop growing, those already planted by the floriculture industry continue to grow. And sadly, they can't be kept in storage if unsold. In Kenya and Ethiopia, where a considerable flower industry has established itself, growers are having to discard their stock. Given the careful sustainability measures taken in certified production methods, such as the GGN label for certified floriculture, it is heart-breaking to see. We can all do something for our own well-being and those of certified growers by continuing to buy flowers carrying the GGN label logo, whether as a gift to yourself, a loved one, or a key worker near you.